Engagement Sessions are something we very highly recommend at Engaging Images. So much so, we include them in all our packages! An Engagement Session gets you out in front of our cameras and as a result, you'll be MUCH more comfortable getting your picture taken on your wedding day – we won't be strangers with big cameras…we'll be friends with big cameras!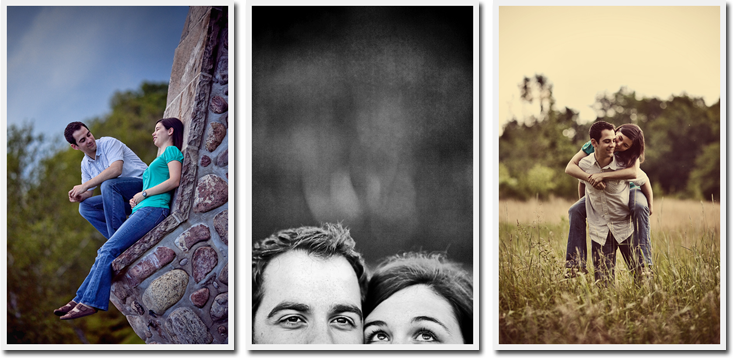 In order to get the most out of your Engagement Session, keep the following tips in mind:
1) The best time of day for an E-Session is either early in the morning or late in the afternoon. The lower the sun on the horizon the better!
2) Dress in clothes that make you look and feel good! Avoid loud patterns or bold stripes as these distract from your face.
3) We generally prefer dark, coordinated colours. Your eye first goes to the brightest areas on a photograph. This should be your faces and not the clothes you're wearing.
4) Don't wear matching clothes – please! It looks cheesy and doesn't provide visual separation between the two of you as individuals. The goal is not to match but to coordinate your clothing. Choose colors that complement each other and avoid patterns that clash. Stay away from logo tees. You might love a band, but your engagement photo is not the place to advertise them."
5) Don't camoflage yourself! If we're shooting outdoors, avoid greens that may blend into the background. Similarly, avoid greys if we're shooting an urban E-Session with lots of concrete in the background.
6) For ladies, we recommend getting your hair and make-up done professionally. We have a list of make-up artists we can recommend if you need help.
7) For men, please ensure that you are well groomed.
8) Remember lighter colors such as white and most pastels can make you look heavier. Choose outfits that fit your personality and make you feel attractive.
9) Sleeveless shirts or tops with very short sleeves are sometimes very unflattering in portraits and should be avoided.
10) We love props!!! Bring your dog, parasols, boas, hats, scarves – whatever! Go crazy – It will just make the session more fun!